As I write this on Small Business Saturday (which is also, of course, the day after Black Friday), I've been pondering shopping in general.
I'm a firm believer that shopping in any form satisfies some primal need in us, some holdover from our hunter-gatherer days. If indeed women enjoy shopping more than men (and I'm still not sure that's true), perhaps history is wrong, and it was women who were the hunters back in the day.
Thanks to the internet, you can now support local merchants near and far; you can "shop local" right from home, and you probably won't even have to talk on the phone. Despite the fact that I often bemoan what online retailing is doing to the small local shop owner, the fact is that it's also making it possible for makers all over the country, and in fact the world, to follow their dreams in countless ways. And it's making it pretty easy for people like me to support a small craftsperson who can't afford a storefront, or who didn't have a way to reach enough potential buyers pre-internet, whether they're around the corner or on another continent.
Small Businesses Are at Your Fingertips
Between Craigslist and Target lie hundreds of thousands of small local merchants looking for your business. We've stumbled on some great finds, from custom-made items to unique pieces, whether it's home decor, jewelry, or just about anything.
Here are just a few examples of our favorite finds:
A black & yellow "cat wall clock" from Sol Pixie Dust; you can find them on Instagram, Pinterest, Amazon, and Etsy, just to name a few. Here's the cat clock; the photo is from their Amazon shop: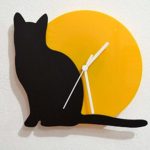 RetroAZ
: They're on break until 2019, but keep them in mind! We got an awesome house number from them; here's a photo from their shop: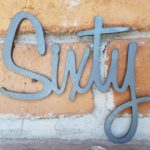 Betty Boomerang
: Amazing subscription boxes for "for retro modern homes and the people who ♥ them." Generally speaking, I'm not a fan of subscription boxes, but our "Betty boxes" are an exception. They're amazing. We actually have a little "ceremony" now when we receive a Betty box; we sit on the couch together and open the box and go through every item. It's like a mini-holiday every two months. Here's one of our more recent Betty boxes: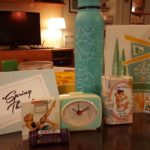 Just be careful, in case you end up having to hold a yard sale, or three. But I can say this – unlike some of my more questionable big-box purchases, nothing I've bought from a local merchant has ever ended up in my yard sales.⧉
What about you? Are you a fan of "shopping local globally"? Let me know in the comments!