Welcome to Week 5 of Makeover Mondays! This week, Mr. C. came by with his electrician for what we thought would be a one-hour visit. Much like what happened to the folks on Gilligan's Island, it turned into a three-hour tour. This was time well-spent, and when they left, it appeared that our plans were in good shape and we're pretty much aligned on exactly what our new space will look like. Here's another house tour with a bit more detail:
I got up the nerve to tell Mr. C. about our IKEA pilgrimage, and he took it well. That may be because I controlled myself and didn't show him all 45 pictures. I ended up showing him about five of them, including what I now know is called the "blind cabinet pull out." There are many places to get these; here's IKEA's "UTRUSTA Corner base cab pull-out fitting." We also showed him the really cool smoked glass cabinet doors that we saw at IKEA; what I love about these is that when the lights in the cabinets are off, you really can't see in: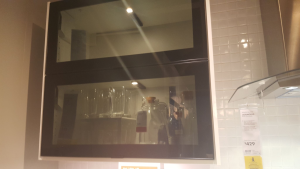 The Nail-Biting Wait for the Cost
Right now, we're awaiting the estimated cost of everything, which we expect to have this week. What a nail-biter! Fingers crossed that we don't have to sell a child, but they're probably all too old to sell at this point. Maybe the granddaughter…she's pretty cute.
We also learned a bit more about our kitchen "pipe to nowhere"; it's actually a "pipe to somewhere" – something to do with the sink and water pressure – but apparently there's a much better way to include this needed functionality now; it's called a "studor vent." The things you learn!
We also settled on what we're doing between the dining room and the living room, and my picture of our "dream shelving" must not have been awful, because Mr. C. asked me to send it to him.
Dream Shelving
Here's our dream shelving, inspiration courtesy "lepetitchouchou":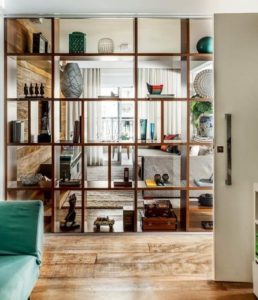 As to the beast of a wall unit – luckily, my husband saved the instructions, sort of: he took quick notes when it was last deinstalled. Oh boy. To our knowledge, there's ONE GUY in all of South Florida who is actually officially qualified to deinstall and reinstall this beast, and we can't find him.
The Countertops – oh, the Countertops!
And…the countertops. Sigh. When I showed him our favorite choice, Mr. C. literally backed away from me, as if the innocent sheet of laminate had magically transformed itself into a handgun.
On the other hand, he loved the Make it Midcentury countertop samples but the price may be prohibitive. It's possible that we can get quartz (!) for less, and he's got a lovely quartz that brings in some of the "sparkly" that we love. We'll see.
I, of course, was in my glory during the entire three hours. Gene, on the other hand, mock stabbed himself when he thought no one was looking. It's possible that the phone call Gene made during the visit was him trying to make reservations on an actual Gilligan's Island.
The Hunt for Boxes Begins
I also started perusing Craigslist for free boxes, but no luck yet. However, I did find an awesome site, "Cheap Cheap Moving Boxes." Who knew?
We also got an estimate on the POD that we'll need. Unfortunately, we can't park it here, and storing it at their facility is the bulk of the cost. Sigh.
We talked about going up to two months without a fridge; I was thinking of getting a cheap little dorm fridge but the brilliant Mr. C. said, "No, no. We'll just put it outside." Oooh!!! That's a perfect solution. And it's winter-ish here, so it's not terribly hot or humid, and it can stay under our awesome awning from Sunsetter Awnings (which, by the way, I highly recommend. This awning has really changed everything – it's like we added a whole new room to the house).
Anyway, here we are on pins and needles waiting for the cost estimate! What about you? Are you planning a remodel anytime soon? Let me know in the comments!⧉
If you're just starting the series and would like to binge-read and get caught up on Makeover Mondays, here's the series:
Week 1: Wouldn't You Love to Avoid These 10 Remodeling Mistakes?
Week 2: Do You Have 23 Questions for Your Contractor?
Week 3: I Coulda Been a Countertop Contender
Week 4: How Many Flooring Choices Can There Be?
Week 6: The Good, the Bad, and the Price
Week 7: It's My Remodel, and I'll Pack Like I Want To!