Welcome to Week 3! We were this close to choosing a countertop (notwithstanding the two that our contractor is having a terrible time finding samples of) when I suddenly remembered sparkle laminate.
Thank God something reminded me, although I don't know what that "something" was. I found the link to "Make it Mid-Century" and promptly ordered three samples.
From Organization to Chaos
My spreadsheet, which started out so organized, is now a hot mess. Originally, it was an orderly, tabbed thing of beauty. Most of the tabs are still pristine-ish, except for the countertop tab. It held 35 (!) different countertop contenders. Each was in its own orderly row, with these columns:
Type
Manufacturer
Style/Color
Link
Notes/Decision
In the "Notes/Decision" column, I've kept track of the samples we've ordered online, or found in physical stores. The first two entries begin with the word "Love" – and these, of course, are the ones we're having trouble finding.
Then there are six "Maybes."
"Looks Like a Road"
The rest are all "Nos." Depending on how bad my initial taste was, some of these come with additional commentary, such as:
"Ew! Looks like a road"
"Oh hell no"
Overall, this was working well until two things happened:
Keeping up with the sheet got away from me, which has now led to entries such as "Maybe – ordered sample from Wilsonart 10/28/18. We got it, right? And we like this one?"
I remembered the sparkle laminate and the Wilsonart Autumn Lights Daisy. These four samples didn't make it to the main rows – no, they're off to the side, in "Quick! Copy this link!" purgatory. I'm depending (hahahaha!) on my ability to remember what we think of these. And all four are fabulous.
Too Many Choices!
So if you're keeping track, that means we have:
Six "maybes"
Three sparkle laminates (see below)
Two "loves"
One "we like this one?"
One Autumn Lights Daisy
…which leaves us with 13 choices; if we're lucky, there are two or three of these that actually go with the backsplash we've chosen, and love.
The IKEA Pilgrimage – of course
Because this clearly isn't confusing enough, I dragged Gene to IKEA so we could get "a few" ideas. IKEA is my dream come true, and Gene's worst nightmare. When we arrived, I could hardly contain my enthusiasm.
Me: "I just want to find more ideas!"
Gene: "I just want to find the exit."
We got ideas, alright. 45 of them, to be exact, each captured in a photo; here's the highlight reel:
Luckily, the financial damage wasn't terrible, because even I know better than to start redecorating weeks before a remodeling project. Well, mostly I do.
More Lamps, Please!
Except for the yellow lamp (photos below). It was irresistible, since it possessed the following qualities:
It's yellow
It was on clearance
It's a lamp! (

We

I have a little bit of a lamp addiction.)
The yellow lamp is fantastic, and Gene was curiously eager to install it. I'm still not sure why, but I'm not looking that gift horse in the mouth. And it perfectly spotlights our awesome vintage black velvet painting and the super cool vintage art underneath it. Sorry, contractor.
Side note: While we're on the subject, it seems kind of rude to keep calling our contractor "the contractor," but I don't want to out him, in case he does something terrible like kidnap me for "decision ransom." So I'm going to make up a name for him, a nom de guerre, so to speak. From now on, we'll call him "Mr. C."
And More Lamps!
Back to IKEA – we picked up a few other things, like another lamp: the owl. Did I mention our lamp addiction?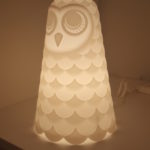 If you can go to IKEA and buy nothing, you're a psychopath. The damages weren't too great; they included these darling little containers that have changed our junk drawer's life, and mine. Really, they did. I now open the junk drawer just to gaze longingly at the fabulous orderliness. And just think how much easier it will be to pack up the junk drawer when we empty the first floor for the remodel!
Our Sad Drawers
There's no hope for our other drawers, some of which are now held together with L-brackets while continuing to weep sawdust tears, but the junk drawer is a thing of beauty.
Plants!
We rounded out our purchase with some fake plants. Because, IKEA. Also, because we need more stuff to pack up for the remodel.

Important detail: Mr. C. has no idea that we went to IKEA and came back with more ideas. Next week, I'll give you an update on how that conversation goes.
I'm sensing a little frustration on Mr. C's part. This was most clear when I texted him a question (number 24, if you're keeping track) and he used my name in his text response:
"Yes, Dawne, I'm bringing my electrician."
Can't you just hear the weariness summed up in those six words? Pro tip: if he starts including my middle name in our texts, I'm in trouble.
He'd Better Hurry!
I'm not sure if he realizes yet that the sooner he gets here with his electrician, the less time I have to completely change my mind about everything involved in this remodel. Or to go back to IKEA.
And oh! I took some (slightly) better pics of the flooring we chose; I've accepted the fact that I will never have a career in product photography.
Until next week…And if you get a chance, go to IKEA. Really, they've got some great ideas.⧉
If you're just starting the series and would like to binge-read and get caught up on Makeover Mondays, here's the series:
Week 1: Avoid These 10 Remodeling Mistakes
Week 2: 23 Questions for Your Contractor
Week 4: How Many Flooring Choices Can There Be?
Week 5: Is Our Favorite Countertop a Weapon in the Wrong Hands?
Week 6: The Good, the Bad, and the Price
Week 7: It's My Remodel, and I'll Pack Like I Want To!