Full disclosure: it wasn't a cruise ship. It was an awesome condo with an ocean view that we rented for a year. One day, my colleagues visited, and one of them remarked, "Oh, wow! It's like you live on a cruise ship!" Now, I've never been on a cruise, but she's a veteran cruiser, so I figure she knows what she's talking about. Why have I never been on a cruise, you ask? That would be because I'm married to a Navy man, whose first response when I asked, "Would you ever be interested in going on a cruise?" was to instantly remind me that he's "had enough of big ships to last a lifetime," thank you very much.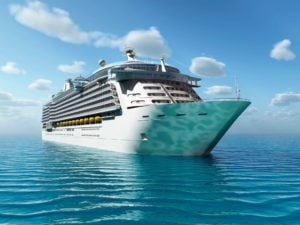 Anyway, the condo. It was a gloriously large, three-bedroom, tenth-floor unit with, as a friend put it, "the biggest balcony I've ever seen!" Also, the mosquitoes never made it up to that balcony. It was (mostly) a year of utter and complete luxury; we felt taken care of at every moment, which we desperately needed after several harrowing years which are a topic for another day. Really, it was cool. The fancy lobby. The 24/7 "concierge." The packages that would be collected and held for us in that fancy lobby. Wow! And, due to the dreadful recession, renting this place was way cheaper than you can imagine.
And the view…ahhh, the view!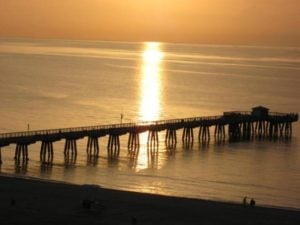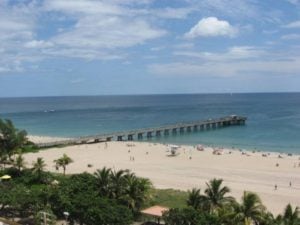 Not All It's Cracked up to Be
While this style of living was mostly great, there were a few things we weren't prepared for:
Parking, 1. We had one of the limited number of coveted garage spots. This is great, until you realize that all of the support posts are wrapped in carpet not only because the senior citizens can't drive, but because you can't drive either.
Parking, 2. If you're not in the garage spot, I hope you enjoy the hair-ruining two-block walk from your car, straight down the wind tunnel that is any street perpendicular to the beach.
Getting to the beach. While the beach was, indeed, across the street (and OMG the view!) I swear it took us more time to get there than it does from our current home, which is two blocks from the beach. This is because condos have rules. Lots of rules. Rules about "proper attire" in the lobby. Rules about "what elevator can you take when you're in beach attire?" (Answer: the freight elevator.)
Rules, rules and more rules. For example, there are rules about "can my daughter bring her new puppy when she comes over for Thanksgiving dinner?" Answer: No. The dog is "not a registered guest." Rules about rules about rules. And in all seriousness, I do understand most of them.
Cruise ships probably have rules too, but I wouldn't know. Enjoy your stay! ⧉