I thought my daughter, Emma's mother, would kill me. It wouldn't be the first time she felt that way, and it most certainly won't be the last. There are many reasons why your granddaughter needs gold, sparkly shoes, not the least of which is because grandparents get to break the rules on myriad fronts. [Note: Photo above is of Emma and me well before our first Target run; apologies for the blur but everyone was sleep-deprived.]
Now, I'm not talking about grandparents who are five-day-a-week caregivers. If you're raising – or co-raising – your grandchildren, then yes, you probably won't get to be the "fun one" as often as you might like. But those of us who play the more traditional grandparent role get to do things that we would never, ever have done for our kids.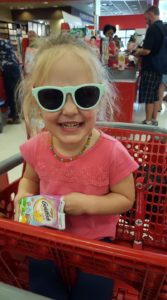 Anyway, one day I took Emma shopping (I had her trained in the wonders of shopping, in particular the Target run, by the time she was three; the above photo first appeared here when I discussed the joys of Shopping for the 98%) and these amazing, ruby-adorned, glittery gold shoes appeared, like magic. Really. They were nowhere near the shoe department, or the children's department; they were in housewares, perfectly placed atop a stack of luxury towels, as if the Grandparenting Gods had placed them there just for Emma.
The Irresistible Allure of Gold, Sparkly Shoes
I mean, who could resist? If I could remember more about being a three-year-old girl, I'm sure that these are exactly the shoes that would have made my life complete. And since I'm still somewhat allergic to money, I figured they were worth the splurge.
As a girl after my own heart, Emma instantly spotted them and I knew it was game over. Grandparenting is everything people say it is, and more. It's an opportunity to experience the pure joy of young children without the burden of responsibility for producing an actual functioning human. It's way more fun than being that "responsible parent" that we all needed to be when we raised our children.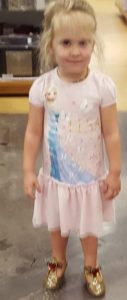 Here are just a few of the things I highly recommend grandparents indulge in:
Coach Dawne's List of Things Grandparents Get to Do
Buy them totally unsuitable shoes
Let them eat cake for breakfast (bonus points if they're going right back to their parents afterwards)
Let them stay up just a "tiny" bit later than normal (i.e. three or four hours)
Buy them a puppy. OK I'M KIDDING. I've only fantasized about this. Actually, what I've fantasized about is showing up at 3:00 am, drunk, on my kids' lawn, with three or four rescue dogs and cats, and 25 equally drunk (and hungry) friends. Not that my kids ever did anything of the sort.
Buy them absurdly large stuffed animals (and if you want to be particularly gracious, these animals can "live" at your house).
Give yourself over to the fun. Eat the cotton candy with them. Buy them the gold sparkly shoes. And hey, if they've got a pair in your size, buy those too. Life's too short to deny yourself – or your granddaughter – the gold sparkly shoes.⧉
If you're also a joyfully subversive grandparent, let me know in the comments! We need to stick together.