Welcome to Week 7 of Makeover Mondays! And yes, it's my (ok, our) remodel, and I'll pack like I want to, just like Lesley Gore at her party.
We got the final cost and signed the paperwork; I've recovered from the sticker shock – it's about 30% more than we'd budgeted (not surprised! I'm relieved it wasn't worse). We really are doing a lot with this remodel, and while we did have to compromise, it wasn't too bad: we lost the upper shelves between the living room and the dining room and will be painting ourselves (the painting alone will save us $1300).
I'm confident that one day, when we recover, we can install the upper shelves ourselves, although they may not be as fancy (and gorgeous!) as these. Last week, I visited our daughter in Louisiana and saw these beautiful glass shelves in a downtown New Orleans eatery (see above); naturally, I took pictures, because it's so much fun to drive Mr. C. out of his mind. But he said no; actually, he didn't say no, but my brain finally kicked in and said no, since we're already 30% over budget.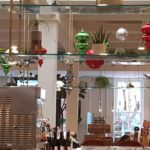 I Order Boxes
I also ordered some boxes, because no, I'm not racing all over town looking for them. First, I tried Craigslist but there's a time crunch here, and I couldn't find any after searching for about a week. I found this great company, "Cheap Cheap Moving Boxes", and they were indeed cheap, cheap! Ordering was easy, shipping was free, and the boxes came in two days – perfect! I highly recommend them.
My daughter implied that ordering boxes means that I'm still too bougie, but whatever. I probably would have spent more in gas looking for all these boxes.
Midweek, I run across a note to self on my calendar; the time I saved by ordering boxes is now spent trying to understand the note, which says:
"higher cabs? What's between dr and lr? Any glass doors?"
The reason it took me so long to decipher it is that I kept reading "cabs" as "carbs", and couldn't figure out if I'd thought to start a new diet, or what.
I also found two awesome nightstand boxes in our complex's dumpster; they were pristine, and big. For fun, I wordlessly left them in the kitchen to give my husband heart palpitations at the thought that I'd been crazy enough to order new nightstands for our bedroom in the midst of this remodel. Marriage should be full of surprises!
And…we have a start date!
Anyway. Mr. C. and I discussed a start date. Here's how that went:
"Can we start after the holi-"
"NO," I snapped.
"OK" (note to men: never argue with a woman hellbent on a project start date)
Knowing he was defeated, he promised to set up an appointment with his engineer for "as soon as possible" which, happily, turned out to be the next day. It's possible that he warned his engineer that "as soon as possible" meant "within the next hour, even if you're currently in another state", given my snappishness excitement.
So, here we are: contract signed. Boxes in place.
Time to pack! In an effort to be organized (which will last about an hour, if I'm lucky), I decided to count the number of glasses we have so that I can order the proper number of "glass boxes" from U-Haul (which had the best price on "glass packing kits").
A moan escaped my lips as I got up to 100 glasses, and there were still more to count. Sigh. By the way, this translated to six boxes of these expensive "glass pack kits" (about $10 each, but then you have to add even more packing material and, of course, tape), more than the total cost of 40 boxes* from the "bougie firm." But whatever. We love these glasses, nearly all of which are vintage, and it's worth the price to know that they'll be protected, and the time we'll save packing, which we'll need to pack the other 40 boxes. Yes, 40 boxes for about 600 square feet of space. It's ridiculous.
When we finally finish packing the glasses, the total count is closer to 180, which we jammed into the six boxes I got that were supposed to hold 18 glasses each with only a few random other things. I'm pretty sure the extra 72 glasses (!) will be safe, because we packed them very carefully, and the boxes still aren't too heavy, which is great.
The Beloved Glasses
*Why so many boxes?
Because – just like when we left our "big house" – our current home is also betraying us. I swear, it's not just projectile vomiting and absurd amount of stuff, but as my husband pointed out, the glasses are BREEDING. Every time our back is turned. Unreasonably, I blame him for finding more glasses, even though the vast majority were my mother's. Finally, after the 4th time I ask, "Are there more glasses?" he responds in self-defense with "I can't answer that."
In case you're keeping track, the expected Grand Total of Boxes will be 46. In a wild burst of optimism, I told Mr. C. we only need two days to pack them all. I must have been out of my mind, but he's coming this week so one way or another, our first floor will be empty when he arrives!
Slow Going
Maybe. On Saturday, we packed a grand total of eight boxes, moved their former home upstairs as a temporary holding area, and talked about fridges for 90 seconds. Then, I mentioned one stove (range? whatever) to my husband, hoping he'd look at the one I found online.
Long before I got to the "Crack House" information, here was his response: "I've had my fill of this project for the day."
As to that stove: By the way, we want a "slide-in" stove, which I just learned the meaning of. I thought all stoves just slid in! Apparently not; the more traditional stoves (ranges?) are called "freestanding." I then read more about them on my favorite home site, Houzz, which really ought to be named "Crack House."
Why Do Research? Live Dangerously is Fun!
Naturally, I didn't do any of this research (what do you MEAN, they don't go all the way back against the wall?) before deciding my heart was set on a "slide-in range." But I will not allow my dreams to die! So I didn't read all of the "Crack House" advice because really, ignorance can be bliss.
But I digress, as always. Back to my awesome husband: OMG. We now have 38 boxes to pack in the next two days, both of which are workdays.
Lalala…we'll get it done! Even if we have to start flinging precious heirlooms over the back fence. And postpone the stove discussion.⧉
If you're just starting the series and would like to binge-read and get caught up on Makeover Mondays, here's the series:
Week 1: Avoid These 10 Remodeling Mistakes
Week 2: 23 Questions for Your Contractor
Week 3: The Countertop Contenders
Week 4: How Many Flooring Choices Can There Be?
Week 5: Is Our Favorite Countertop a Weapon in the Wrong Hands?
Week 6: The Good, the Bad, and the Price