Welcome to Week 8 of Makeover Mondays! Last Monday, at 4:30 pm, I read a text message that I'd received at 2:00 pm – what a difference a couple of hours can make. It said, "Hi Dawne, we can start tomorrow." The worst part wasn't missing the two hours I could have been packing – it was fearing that 4:30 was too late to say, "Great! We're ready!"
Liar. We were nowhere near ready:

Since I have my priorities straight, the first thing I did was text Mr. C to assure him we were ready. The crew arrived the next morning, ready to start.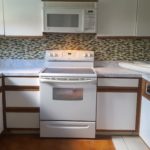 And see – we were close; that's what "grinding through it" gets you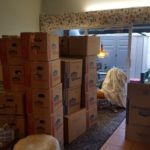 We were (OK, I was) excited, if a bit bleary, having only slept four hours. In the roughly 18 hours between 4:30 pm and the next morning, we went from 0 to 60 – ok, not quite. We actually went from 15 to 75, as in "boxes packed."
Another Misunderestimation
(Yes, I took poetic license here.)
In my first Makeover Mondays post, I mentioned the importance of not underestimating the cost and time of a remodel. Here's another piece of advice in that vein: don't underestimate the number of boxes you need. We originally ordered the "Super Value Kit" from Cheap!Cheap! Moving Boxes, which included 30 boxes. Here's what I have to say about that: idiot. Clearly, I was wildly off. We got the other 45 because, just two hours after the fateful 4:30 text exchange, I already knew we weren't even close to having enough boxes. I sent my husband off to Lowe's for the additional 45 (!) boxes, which turned out to be almost exactly enough. In hindsight, I should have ordered three Super Value Kits.
Tuesday: No, Our Kitchen Isn't Really a Crime Scene
Remember Uncandles? A couple of years ago, we found a barely- or never-used Uncandles set, with the little plastic thingies, the wicks, and all. For $5! So cool! Just add oil and food coloring, light them a couple of times, and then ignore them for two years. If you aren't familiar with these, here's a Pin from TimeWarp toys.
Somehow (I don't think this is chemically possible, but chemists haven't met me) the water and oil seem to have congealed together (maybe it was the food coloring? Have I discovered something?) so that the oil has the consistency of water but the slickness of oil. I didn't want to throw it down the sink, so I put it an "extra-tough" trash bag. The trash bag laughed as it oozed blue slime, as did the the second bag I desperately threw it into. It's a good thing it was blue and not red, because the house would now look just like a crime scene. I'm trying to be grateful (GRATEFUL GRATEFUL GRATEFUL) that this wasn't on our new floors.
The Crime Scene
While the house might not have looked like a crime scene, it certainly smelled like one, because of all the bleach I had to use to clean up, since we packed all our cleaners. Actually I think they're in a box in our upstairs bedroom, but the blue ooze was oozing at such a rapid pace (thank you, chemistry) that I just grabbed the closest thing I had. The trash bag is now sulking in the kitchen; I ruined its fun by quadruple-bagging it. Take THAT, chemistry!
The POD
The POD arrived on time, midway through the 8:45 – 11:45 ETA. What a feat! It couldn't go exactly where we wanted it, but it's not terrible. Pro tip: Add "tips" to your budget, because you need (yes, need) to tip the workers. I tipped the driver because he was fun, and because it's the right thing to do. Plus it was really cool to watch him do it. I didn't take a video because I didn't want to make the driver nervous, but here's one posted by PODS, "What to Expect When You Use PODS."
By the end of this journey, we'll likely have racked up a bit of money in tips for the various workers (I'm thinking probably about $200, which is what we can afford). So make sure to account for this. And plan to be handing out $20 bills as if you've woken up and found yourself in Disney World with your kids.
Timing is Everything
Anyway, there sat the POD, in place, and most of the boxes were packed – and still sitting in the living room. We couldn't move them into the POD Monday night, of course, because it wasn't there yet. And everyone was at work Tuesday. Luckily, the electrician was able to work around our still-full house in preparation for the Wednesday, when the work began in earnest.
Tuesday night, my husband and son loaded the POD in the dark, while I supervised and held the flashlight, sitting on a folding chair in the driveway and feeling like a queen. Yes, I'm capable of carrying boxes. Yes, I believe in equality for women. But it was pretty awesome to play the woman card and relax, something I rarely get to do.
The Work – and Dust – Begins
Wednesday morning, the workers sealed off our kitchen. The dust laughed. Here's what the one light we now have in the kitchen looked like at the end of the day: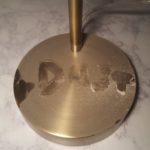 While they worked amid the dust, I sat down to write, something I stupidly thought I could do amidst the chaos; after living in noisy dorms during college, raising three kids, and working in crowded airports while traveling on business, I'm pretty good at ignoring what's all around me, but I found myself unable to do so. It wasn't the dust, or the noise – it was the sheer excitement of seeing tangible progress. I felt like I was at a really fun event, one where I didn't want to miss a minute; I just couldn't concentrate. So I gave myself a break and gloried in the moment.
Thursday: It Gets Even More Exciting!
Early in the morning, Mr. C. called and said they really would like to open up the walls, remove the cabinets, and get going, but he was worried about my plans to cook over the holidays.
Hahaha! Here are my plans to cook over the holidays (Photo credit Publix):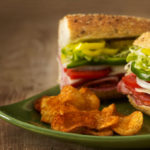 We have four holiday events to attend this week – one on Thursday, one on Friday, one on Saturday, and one on Sunday. Three of these are potlucks. I realized that this is the best possible time of year to be without a kitchen, and I swear I would do this every year if I could. Thanks, Publix!
While I'm on the subject, note that a kitchen remodel is probably not the best time to worry about your eating habits. Aside from how festive I find this whole thing, it's difficult to stick to an eating routine when you don't have a kitchen. My general "holiday eating derailment" has now gone even further off the tracks, but I'm not worried about it. I probably should be.
I'm already so in love with how things are looking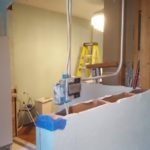 The "what will be the old fridge" has now moved into position as a placeholder for the new fridge. Mr. C. asked where we'd like to keep it when it has to come out of the kitchen, and while I thought about it, he uttered these life-changing words:
"Get the new fridge now and then we can use it until it goes into place."
WHAAATTT!!! HELLO, SHOPPING!!!!
While I'm having trouble working, I'm having no trouble shopping, woo-hoo! And my shopping is expert-level.
In order to pretend that I know what I'm doing, I've stubbornly maintained my spreadsheet, which is now even more of a hot mess.
The spreadsheet has separate tabs for appliances, flooring, cabinetry, etc.; here are the columns on the "Appliances" tab:
Item (e.g. microwave, fridge, etc.)
Place
Link
Cost
Notes
Brand
Space needed
Finish
If stainless, fingerprint-resistant?
Dimensions
Available today?
Ratings
Number of Ratings
I'm covered, right?
I mean, this is a breathtakingly comprehensive and orderly approach. Let's ignore the roughly 50,000 additional options (crushed and/or cubed/smart or dumb/LED or halogen…it never ends).
I attacked the Fridge Hunt first, and ended up with about 15 choices; this felt pretty manageable. And found a BEAUTIFUL Whirlpool fridge in their "Sunset Bronze" line; it's reasonable and matches NOTHING else in our kitchen – even I'm able to tell that it will clash horribly with the flooring and cabinetry. Also, the prices on the coordinating appliances are way beyond our budget. Sigh.
Still, I'm ready to marry this fridge. Momentarily ignoring the "clash", I wondered – do the appliances have to match each other? In conversation with Mr. C., I realized that I could check to see if there might be package deals. Luckily for us, there weren't.
Spendy Slate
My second choice for a finish was slate, which is, sadly, also spendy. It should just be called "Spendy Slate." At the moment, we're probably going to go with boring stainless steel. And now I better understand why people do: it's spelled c-o-s-t.
My husband wasn't nearly as excited as I was by these developments. Here's our early Thursday-evening text exchange:
Me: "OMG he said just get the fridge now!"
H: "jfc"
All that careful planning…
Looking at stainless options, all my careful planning went out the window. Why are there so many choices???? And while I'm ranting, do I really need to see "Sponsored Posts" on BEST BUY? Can you please just show me your own merchandise? There are already, like, 175 fridges to choose from.
I managed to get it down to three real possibilities, and moved on to stoves/ranges/whatever the right word is these days. Sadly, I was unable to remove "smart ovens" using the filters provided. News flash: I don't want a smart oven. I want a dumb oven. There are enough things surrounding me that are smarter than I am. I don't need a snarky stove.
En route to our first soiree of the next four days, my husband and I discussed next steps. Here's how that conversation went:
Me: "We have to look at fridges."
Husband: "Oh dear God, please don't tell me we're going to Best Buy after the party."
Me: "No because, sadly, they'll be closed by then."
Three Fridge Contenders
After we got home, we looked at the three real contenders I'd narrowed our choices down to (not all heroes wear capes). It was killing ME that we couldn't choose a fridge that night, and get it delivered by the next day, but we both agreed that we absolutely must see them in person before deciding. Here's the thing about online ordering a product like this:
How can you possibly buy a fridge sight unseen? First, I need to involve several senses for at least a few reasons:
Does the handle feel comfortable in my hands?
How much room is there really?
Does it smell ok (not that "new" smell, which I love, but does it have a "weird new" smell? Trust me, there's a difference)
Mini-rant
Second, is it really that hard to go to the store? What else are we all doing that's more important than something we'll have for hopefully 10+ years? Plus, it's way less festive to hit "complete your order" than to shake the salesperson's hand and get back in the car, headed to Dunkin' Donuts to celebrate your purchase. I don't know why, but I always love stopping at Dunkin' for a coffee and an old-fashioned donut after spending part of our retirement fund.
So, here's my advice: get off the couch and go to the store! Your Fitbit will thank you.
Friday: The Defining Moment
The Defining Moment came on Friday morning, when the workers asked me where we might want to keep the stove for the next week or so. At that moment, I gave up all pretense of doing any cooking at all between now and Done Day:
"Take the stove!" I cried, as if I were Custer at his last stand.
I can't wait to see my husband's face when he realizes the stove is gone. I'm glad I'm able to do my part to keep the element of surprise alive in our marriage.
At this point, I'm semi-delirious, not to mention even fatter; I know this not just because of what I'm eating every day but also because, unfortunately, the scale is in an unimpacted area of the house and is therefore still accessible.
Because we have nothing else to do, I sat down and composed "The 12 Days of Remodeling", which took waaaay longer than I expected. This project is going to take way more than 12 days, of course, but I wasn't about to write "The 45 Days of Remodeling." You're welcome.
On the twelfth day of Christmas, our project gave to me:
Twelve hammers pounding
Eleven pounds of sawdust
Ten more surprises
Nine charging hand drills
Eight budget breakers
Seven new decisions
Six patient neighbors
Five more questions
Four barking dogs
Three lost plugs
Two days to pack
And a dream of a remodeled home.
In Other News
I ordered so many samples from one company that they emailed me passes to The Kitchen & Bath Industry Show (KBIS), which is North America's largest trade show dedicated to all aspects of kitchen and bath design. This is very exciting, even though there's no way we're going.
Not all this week's news was great. There's some electrical issue involving the microwave; I blacked out halfway through the conversation but I'm pretty sure it requires more work, which of course will mean "more money." But I will not be derailed. At least, not in this remodel.
I had an idea about making the understair planter a little bigger, put on my cape and fearlessly suggested it to Mr. C. This involved me getting under there, first by myself as in the video below, and again with Mr. C. There is no video of that trip, and nothing happened! This is why marriages need to be based on trust; when my husband got home from work, I said, "Guess what! I got under the stairs with Mr. C. today!" And he said, "Cool!" And no, we don't have an open marriage.
It just might work!
But I digress. Incredibly, Mr. C. thinks my idea will work. Stay in school, kids! Your degree in math will come in handy in the most surprising ways. Here's my idea:

Not that all surprises are good, especially if you're the UPS man. Unfortunately for the UPS man, our dog is a runner, and the workers were in and out so much that she escaped several times. She almost got the UPS man, but an alert worker stopped her; by then, they'd all learned that she's a sucker for string cheese. I knew there was trouble when I heard a growl (the dog), a yelp (the UPS man), and cries of "Cheese!" (the workers). I really am very, very sorry, UPS man.
Note to self to add to budget: We're running through string cheese like it's water.⧉
If you're just starting the series and would like to binge-read and get caught up on Makeover Mondays, here's the series:
Week 1: Avoid These 10 Remodeling Mistakes
Week 2: 23 Questions for Your Contractor
Week 3: The Countertop Contenders
Week 4: How Many Flooring Choices Can There Be?
Week 5: Is Our Favorite Countertop a Weapon in the Wrong Hands?
Week 6: The Good, the Bad, and the Price
Week 7: It's My Remodel, and I'll Pack Like I Want To!